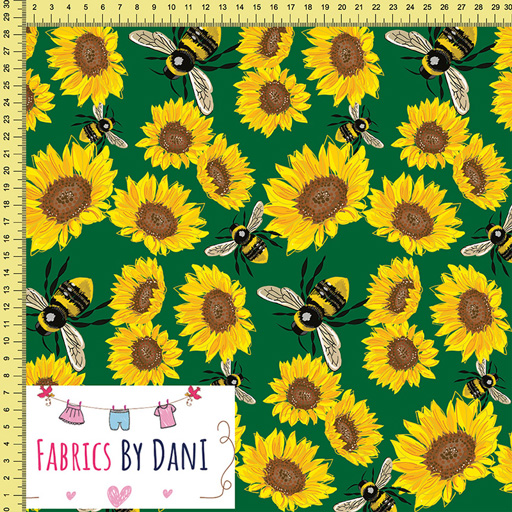 Sunflowers Fabric
Exclusive design by Dani Allen
All our fabrics are available to pre-order on a choice of fabric bases, discounts available for bulk purchase (10% at 5m+). This pre-order Round will close on 9th Oct 2021. Please allow 4 - 6 weeks for delivery (6-8 weeks in January & February rounds).
SHIPPING
Standard UK Postage cost is as follows:
Upto 1.5m £2.00, Up to 5m £4.00, 5-9.5m £9.50 10m+ £13
New reduced shipping prices!
Upto 1.5m £2.00, 2m - 4.5m £3.50, 5m+ £5.00
PLEASE NOTE
Due to the nature of custom printing, there may be the odd small white spot on the fabric. This is quite common, and not considered to be a flaw.
Fabrics may not be provided in a continuous run, if this is an issue for you please contact us in advance and we can discuss options.
Custom fabric will take approximately 6-8 weeks to arrive after the order deadline (currently 9th Oct 2021). occasionally there may be a delay out of our control, but if this happens we will keep you updated with time scales.
Customer Makes to Inspire...